BCS PRACTITIONER CERTIFICATE 

IN DATA PROTECTION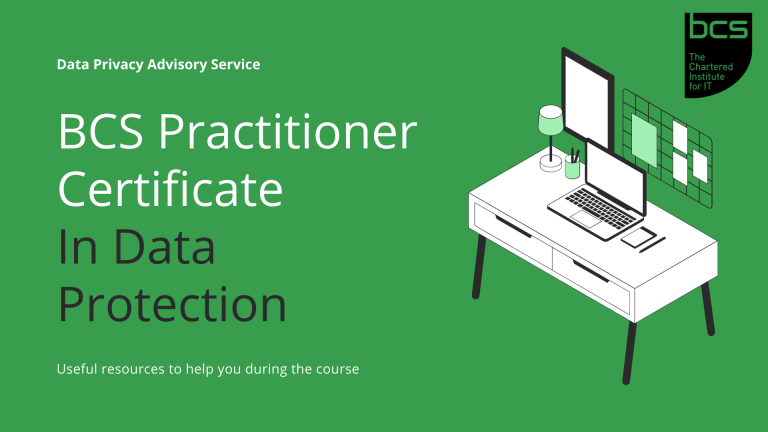 The BCS Practitioner Certificate in Data Protection is aimed at current Data Protection professionals or those that wish to achieve and demonstrate a broad understanding of the law.
Delegates will gain a broader and deeper understanding of current laws, including the EU-GDPR, UK-GDPR (although not currently included within the exam) and the UK Data Protection Act 2018, and how they need to be applied in your organisation.
It is ideal for those candidates who already hold the Foundation Certificate in Data Protection and who want to gain a more in-depth knowledge of interpreting and applying the principles of data protection legislation and the GDPR.
Useful Course Information
Please note that due to the COVID-19 Pandemic all our courses will now be held virtually (or otherwise agreed). All of our courses are tutor-led by experienced data protection professionals.
You will need access to Microsoft Teams (MS Teams) throughout the course. All courses will commence at 9 am and will finish at 4.30 pm. Breaks will be scheduled throughout the day. If you need to attend a meeting during the day, please discuss this with the trainer so they can tie this into allocated breaks. 
You will be sent (via email) a link to the Microsoft Team 2 – 3 weeks prior to the course. Please ensure that you are able to access this before the course commences.
All of our courses have a maximum of 12 delegates. 
All BCS Courses Include:
Paperback BCS Data Protection and Compliance book released in November 2021 (sent to your home address prior to the course).

12-month BCS Professional membership.

Course materials, including sample papers.
BCS exam (to be taken when convenient to you). 
Support for 1-month post-course on data protection related matters.
Over 30 useful tools, templates, audits, policies and more for you to use within your organisation.
An innovative risk model designed for you to assess data protection risks in your organisation.
Opportunity to network with other data protection professionals.
Check out our BCS course schedule to see the other courses we have lined up.
BCS Exam Information
The DPAS Training Manager will set you up on the dedicated BCS portal which is where you will book your exam. To access this you will be sent a one time link to the portal to book your exam.
You can take your exam at any time that suits you, there is no time limit on when you sit the exam. However, you will need to ensure that you are following the updated syllabus if you take it 6 months after the course.
The exam itself is held via remote proctor (essentially, someone watches you complete the exam). You can do this at any location convenient to you. You will use your own device for the exam. The exam is a 90 minute closed book exam. The pass rate is 26/40 (65%). 
If you have a disability or English is not your foreign language you may be entitled to extra time, further information can be found here. 
Learning Outcomes
Gain an understanding of the key changes and the associated implications that the GDPR and the UK Data Protection Act 2018 introduce to data protection.
Gain an understanding of individual and organisational responsibilities under the GDPR and the UK Data Protection Act, particularly the need for effective record keeping.
Be able to apply the new rights available to data subjects and understand the implications of those rights.
Be able to demonstrate an understanding of the designation, position and role / tasks of a data protection officer.
Be able to prepare organisations to manage and handle personal data in compliance with the GDPR and the UK Data Protection Act.
Please note:
Any legislative changes between 1 November 2021 and 30 April 2022 will be reflected in the new version due to be released in July 2022.
Who Is The Course For
Anyone who has some existing responsibility for data protection within their organisation.
It's also useful for those who want to broaden their basic understanding in this area and fully understand the practical applications of data protection laws.
Whilst this certificate is written to the UK Data Protection Act, many other jurisdictions have enacted broadly similar data protection laws, so international candidates may also find this useful.
This qualification is likely to be of particular benefit to those working in the following areas:
Data Protection and Privacy
Information Governance, risk and compliance
Data Management
Project Management
Directors/Senior Managers with Data Protection responsibilities
Legal and procurement
Marketing and Sales professionals
Information Security and IT
Human Resources
Frequently Asked Questions
Are there any entry requirements to the course?

It's ideal if you hold the BCS Foundation Certificate in Data Protection, though this is not mandatory.
We strongly recommended that candidates attend an accredited training course and are fully familiar with GDPR and the syllabus and any recommended reading outlined in the syllabus.

What comes next after the Practitioner Course in Data Protection?

If you are acting as a Data Protection Officer, we would also recommend you do our 2-day CPD accredited 'The Effective DPO' course.

How long does the course take?

Our course runs for 4 days (9 am-4.30 pm)

Can I just sit the exam rather than do the course?

We can certainly do this for you, just get in touch with us at info@dataprivacyadvisory.com
Dave Cousens
Rutland County Council
I have been on other courses when there has been far too much emphasis spent on teaching the DPA Act, GDPR and legislation etc, which I fully understand the importance of. Today the correct amount of time was spent on covering this without losing the interest of the trainee in the 1st hour! When I come on these courses I want to learn the practical aspects so I can put them into practice when back in the office. Nat presented these elements with an obvious expert authority and a relaxed good humoured style allowing me to benefit in her knowledge.
Stacy Carter
South Kesteven District Council
I enjoyed the freedom to discuss specific cases and areas of difficulty and to be able to learn from the other delegates experiences. The trainer was knowledgeable, confident and clear in the delivery of the course, it was clear she knows the subject matter and it felt very authentic. This is the first virtual training I have attended and I was unsure how I would find it, but it worked very well, the group size was very good and I was able to stay engaged.
Carla Jones
DVLA
The content and pace of the course was great and also allowed for side group discussions, going down the rabbit hole so to speak. The trainer was knowledgeable and personable. I would be confident that a course delivered by him would meet it's objectives. The inclusion of the slide pack was a welcome addition to most course as it allows to write freehand notes that can then be linked back to the discussion slide. I have found the inclusion of the slide pack with all the DPAS courses I have attended an excellent addition as I am an avid note taker and can often miss the slide content when writing. This was really helpful when I attended the Data Protection Practitioner course in November.
Free Templates
If you have completed the course and would like access to the free templates you can request them from us directly.
If you have forgotten the password, get in touch with us via the contact form below.