responsum
DPAS is proud to be the first UK partner of Responsum. The privacy management software which is EU based aims to simplify and automate your Privacy compliance challenges with an all-in-one Privacy Management software.
The solution helps to minimise risks in your organisation and turn Privacy into a competitive advantage.
Privacy Management is one of the most important parts of  Risk & Compliance departments.
Privacy professionals are often under tremendous pressure to find the right balance between various data protection challenges. Increase your privacy management efficiency and improve your organisation's performance. 
Faster. Easier. More efficiently.
Responsum offers one of the best solutions in the market place which was designed by consultants, for privacy teams.
RECORD

OF PROCESSING ACTIVITIES
Be in control of how personal data is being processed in your organization and enable cross-departmental collaboration.
DPIA 
Consider data protection risks and requirements for any service, 
DATA SUBJECT

REQUESTS
Have all necessary information and guidance at your disposal to handle data subject (rights) requests.
INCIDENT & BREACH

MANAGEMENT
Reduce response time to data incidents and breaches. Execute your action plan during the typical chaos of a breach.
ASSESSMENTS
Create your own assessments or use one of our many templates.
VENDOR

MANAGEMENT
Centralize and manage all information related to your vendors and other stakeholders.
e

LEARNING
Provide customizable, online Privacy and Security trainings, track results and follow-up appropriately.
PHISHING

SIMULATIONS
Simulate real-world, custom phishing attacks for your employees and track results.
POLICY

MANAGEMENT
Keep track of versioning, build out review cycles and ensure everyone has read and understood all policies.
RISK

MANAGEMENT
identify and understand risks across different departments, link them to their processes and increase the effectiveness of your risk management programs.
Contact us to arrange your Responsum demo, for preferential rates and to enquire about us setting up your organisation on the system.
GDPR
FOR SCHOOLS
PRICES FROM £50 PER MONTH
School Centric:
A highly secure, cloud-based tool included within the basic package designed to reflect existing processes and the way schools work, whilst proactively prompting them to meet and exceed the new General Data Protection Regulations.
Powerful Features:
The best of the best is combined in the tool, it documents data flows, mapping, and audits of all personal data, and prompts the use of SAQs. It will guide ALL school staff to a new level of data protection understanding.
Simple & Intuitive:
The tool has been designed with schools in mind, we have made it as simple and intuitive as possible ensuring it is easy to use and making it an invaluable tool for schools looking to achieve full GDPR compliance.
Awesome Support:
DPAS is dedicated to helping schools meet and exceed the requirements of GDPR, advocating accountability and demonstrating compliance. Our team are on hand to offer friendly and timely guidance to support you in achieving this goal.
For more information on the services we offer catered towards education, visit our GDPR Services For Schools page.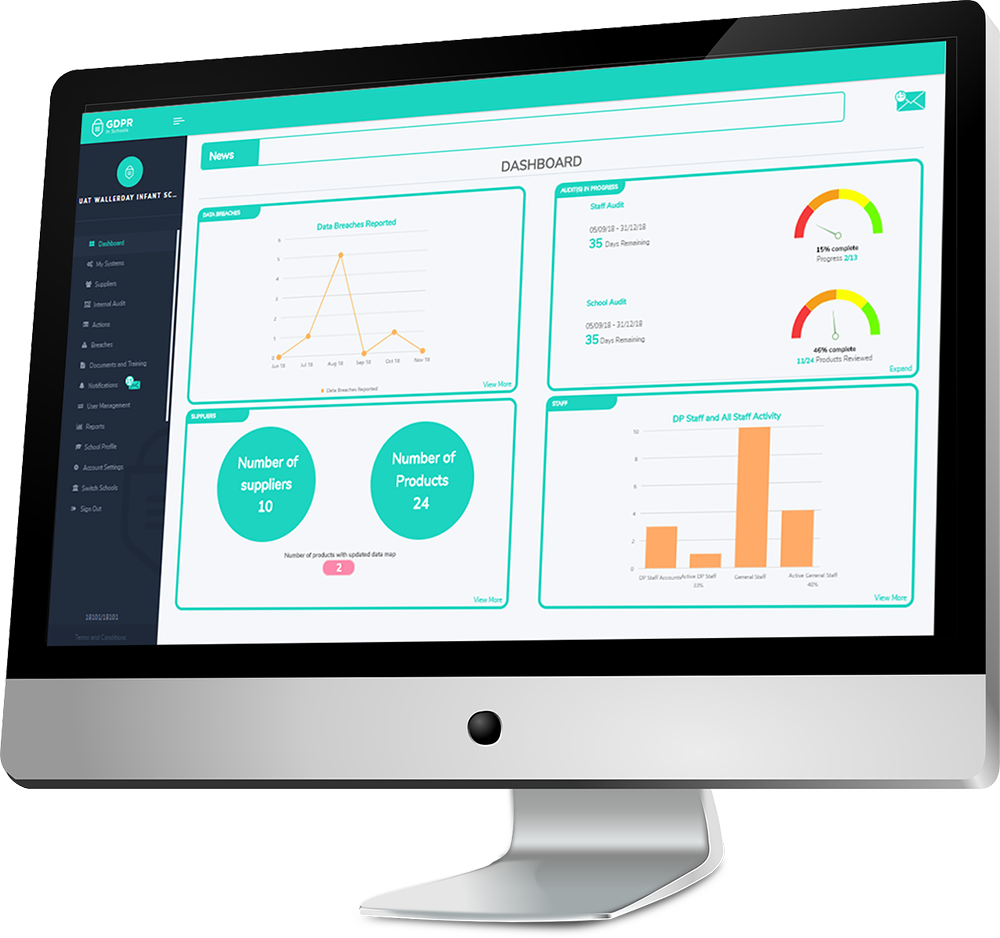 RECORD OF
PROCESSING ACTIVITY
Creates your Schools Record of Processing Activity (ROPA) and evidences due diligence on the suppliers that your school uses (for example, parent pay)
ACCOUNTABILITY
Demonstrates accountability for staff training. Also allows staff to report data incidents
MANAGE AUDITS
Allows your DPO or Data Champion to manage audits, policy updates and breaches Your one-stop GDPR school shop!
Contact us to arrange your GDPR for Schools demo, for preferential rates and to enquire about us setting up your organisation on the system.
ONE

TRUST
PRICES FROM £130 PER MONTH
OneTrust makes compliance simple with their OneTrust Privacy, Marketing, and Security Tools.
Regulations like the GDPR, CCPA, and others apply to companies of all sizes. Building a mature compliance program doesn't have to be a costly and time-consuming endeavour.
OneTrust offers powerful compliance tools that are simple to use and easy to deploy, which is why companies big and small use OneTrust to develop their privacy and security compliance programs.
The platform enables you to pick and choose from a number of tools to help you comply with global laws, as well as meet your internal requirements across a broad spectrum of use cases. Select one tool to get started or roll out several tools in parallel with the help of quick-start wizards and online training tools.

SIMPLE PRICING

& PACKAGING
Only pay for the tools you need and don't worry about the rest
INTUITIVE

USER INTERFACE
Work faster with an intuitive user experience that makes completing challenging tasks simple and easy
FASTER TIME

TO VALUE
Get started today, not weeks from now, with a quick-start deployment and access to our team of experts
POWERFUL

TRAINING TOOLS
Get help how you need it with getting started wizards, user guides, free workshops, and more
EASY-ADD

MODULES
Scale functionality up or down to fit your company's use case and compliance program maturity
MULTILINGUAL

CAPABILITIES
Support your global teams and enable employees to work in the language they know best
Contact us to arrange your OneTrust demo, for preferential rates and to enquire about us setting up your organisation on the system.