DPAS Partners include ProvePrivacy, GDPR for Schools and OneTrust. Our partners provide Data Privacy software to help with GDPR compliance within your organisation.
PROVE

PRIVACY
PRICES FROM £100 PER MONTH
As a DPAS Partner, ProvePrivacy helps your organisation demonstrate compliance with data protection law. ProvePrivacy brings together your record of processing activities, breach and data subject rights incident management, policy and procedure and technical and organisational measures.  It also includes data protection awareness e-learning, ensuring that all of your employees remain aware of their obligations.
ProvePrivacy helps to simplify the process of managing your data protection compliance. Within the online cloud based software you can:
BUILDING YOUR RECORD

OF PROCESSING ACTIVITIES
Your organisational activities are structured by department, building up a complete data compliance picture summarised in your organisation's heatmap. This allows you to identify at a glance where you need to focus your attention.
RISK & ACTION

PLANNING
ProvePrivacy naturally identifies risks and allows you to manage them as it learns more about your organisation. Add your own risks as you identify them, add actions, and monitor their completion.
ASSISTED

ASSESSMENTS
You don't need an expert to understand your activities. Our assisted assessments help identify concerns through questions and supportive help text.
SUPPLIER

MANAGEMENT
Record all of your supplier relationships. Assisted assessment evidence that contracts contain all of the required clauses and documentation can be uploaded to support this.
INTEGRATED

E-LEARNING
Ensure all colleagues complete annual Data Protection and Security Awareness Training with our 'knowledgezone' CPD certified course.
DPIA

& RISKS
Help identify when a DPIA or LIA needs to be completed.
BREACH

MANAGEMENT
Incident reporting ensures a breach can be reported to the right person quickly. Once logged you can manage the breach step by step.
DATA

SUBJECTS RIGHTS
The data subject module allows you to manage requests from data subjects such as a DSAR or the right to be forgotten.
POLICY

MANAGEMENT
ProvePrivacy provides evidence that staff have read and understood your policies on an annual basis. In addition, it ensures document owners regularly review and update policies to keep them current.
TECHNICAL

& ORGANISATIONAL MEASURES
The Standards module allows you to plan your data controls by defining your objectives and the controls you have in place to achieve them. This helps to satisfy the GDPR and ISO27001 requirements.
Contact us to arrange your ProvePrivacy demo, for preferential rates and to enquire about us setting up your organisation on the system.
GDPR
FOR SCHOOLS
PRICES FROM £50 PER MONTH
School Centric:
A highly secure, cloud-based tool included within the basic package designed to reflect existing processes and the way schools work, whilst proactively prompting them to meet and exceed the new General Data Protection Regulations.
Powerful Features:
The best of the best is combined in the tool, it documents data flows, mapping, and audits of all personal data, and prompts the use of SAQs. It will guide ALL school staff to a new level of data protection understanding.
Simple & Intuitive:
The tool has been designed with schools in mind, we have made it as simple and intuitive as possible ensuring it is easy to use and making it an invaluable tool for schools looking to achieve full GDPR compliance.
Awesome Support:
DPAS is dedicated to helping schools meet and exceed the requirements of GDPR, advocating accountability and demonstrating compliance. Our team are on hand to offer friendly and timely guidance to support you in achieving this goal.
For more information on the services we offer catered towards education, visit our GDPR Services For Schools page.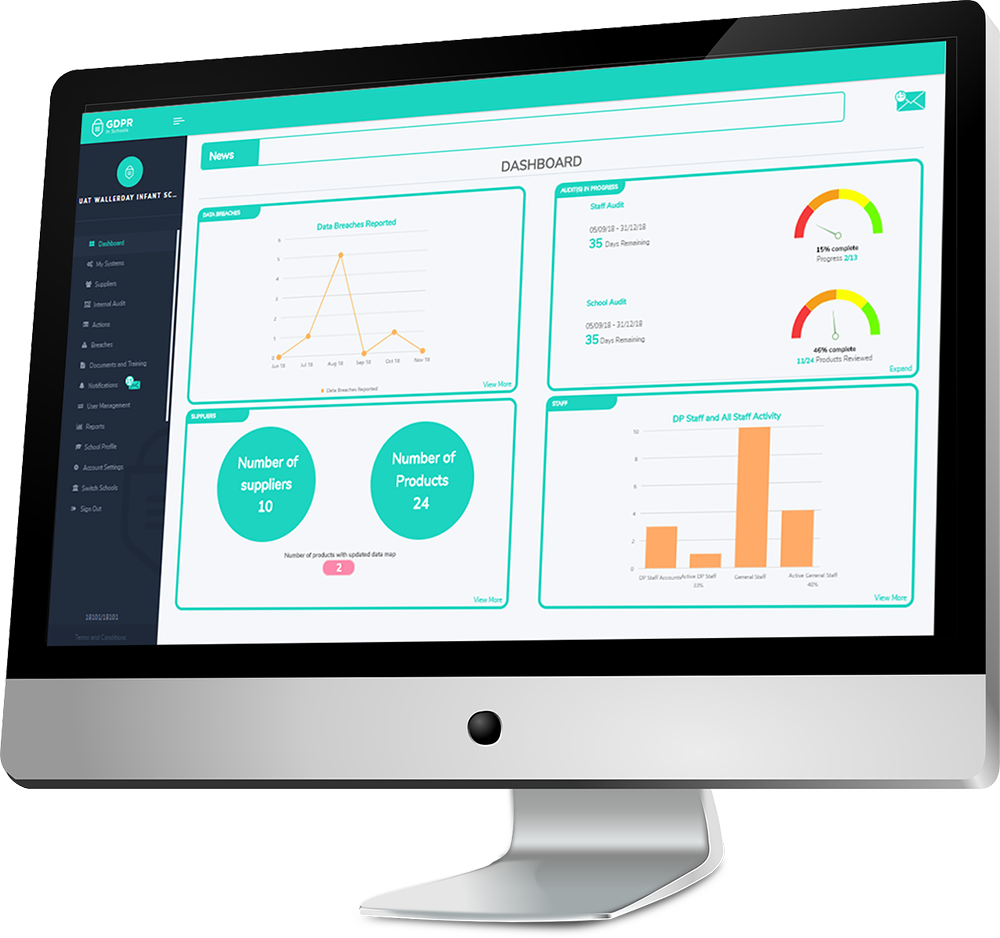 RECORD OF
PROCESSING ACTIVITY
Creates your Schools Record of Processing Activity (ROPA) and evidences due diligence on the suppliers that your school uses (for example, parent pay)
ACCOUNTABILITY
Demonstrates accountability for staff training. Also allows staff to report data incidents
MANAGE AUDITS
Allows your DPO or Data Champion to manage audits, policy updates and breaches Your one-stop GDPR school shop!
Contact us to arrange your GDPR for Schools demo, for preferential rates and to enquire about us setting up your organisation on the system.
ONE

TRUST
PRICES FROM £130 PER MONTH
OneTrust makes compliance simple with their OneTrust Privacy, Marketing, and Security Tools.
Regulations like the GDPR, CCPA, and others apply to companies of all sizes. Building a mature compliance program doesn't have to be a costly and time-consuming endeavour.
OneTrust offers powerful compliance tools that are simple to use and easy to deploy, which is why companies big and small use OneTrust to develop their privacy and security compliance programs.
The platform enables you to pick and choose from a number of tools to help you comply with global laws, as well as meet your internal requirements across a broad spectrum of use cases. Select one tool to get started or roll out several tools in parallel with the help of quick-start wizards and online training tools.

SIMPLE PRICING

& PACKAGING
Only pay for the tools you need and don't worry about the rest
INTUITIVE

USER INTERFACE
Work faster with an intuitive user experience that makes completing challenging tasks simple and easy
FASTER TIME

TO VALUE
Get started today, not weeks from now, with a quick-start deployment and access to our team of experts
POWERFUL

TRAINING TOOLS
Get help how you need it with getting started wizards, user guides, free workshops, and more
EASY-ADD

MODULES
Scale functionality up or down to fit your company's use case and compliance program maturity
MULTILINGUAL

CAPABILITIES
Support your global teams and enable employees to work in the language they know best
Contact us to arrange your OneTrust demo, for preferential rates and to enquire about us setting up your organisation on the system.