Rugby season is upon us again, and it brings some truly exciting news for DPAS.
If you've been keeping up with us over the past 12 months, you might already know about our partnership with Exeter Chiefs. You can read our first announcement here.
You'll also be familiar with how attached we are to rugby here at DPAS. Founder Nigel Gooding is a well-known name in rugby circles, and a survey has shown that 99%* of DPAS employees prefer the sport over Football.
As part of our support for Exeter Chiefs, we're thrilled to announce that we are sponsoring female athlete Abby Middlebrook for the 2021/22 season. Abby has been playing rugby since she was 12 years old, representing Devon County and England U18s in that time.
Our CEO Melanie Garnett went over to Sandy Park to meet with Abby recently, to kick off what is sure to be an exciting and rewarding relationship. Here's what they had to say.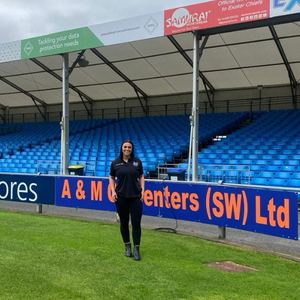 "It's exciting to be sponsored by a female led company, and I'm grateful to be supported in my rugby career. It feels nice to be recognised as a leading female player and as an aspiring professional who aims to inspire the next generation. It's great to know that DPAS are helping Exeter Chiefs to ensure they look after my data as a player. I'm really excited about the sponsorship, and I'm looking forward to seeing the girls support me on the side-lines this season." – Abby Middlebrook, Exeter Chiefs
"We are really proud to be working with Exeter Chiefs and to be supporting them with their data protection compliance. As a Devon-based, internationally renowned company, it's always exciting to work with organisations so close to home, especially those that we have such personal interest in. As a company which embraces diversity, and is led by a female CEO, we are thrilled to support and sponsor a female athlete." – Melanie Garnett, CEO of DPAS